When I write a book, I'm all in. That's why I tend to lean into single-subject books, exploring ice cream, cooking and baking in Paris, and the traditions and culture of French drinks. Each book gives me an opportunity to take a deep dive into something that I love, but also allows me to learn and discover something new.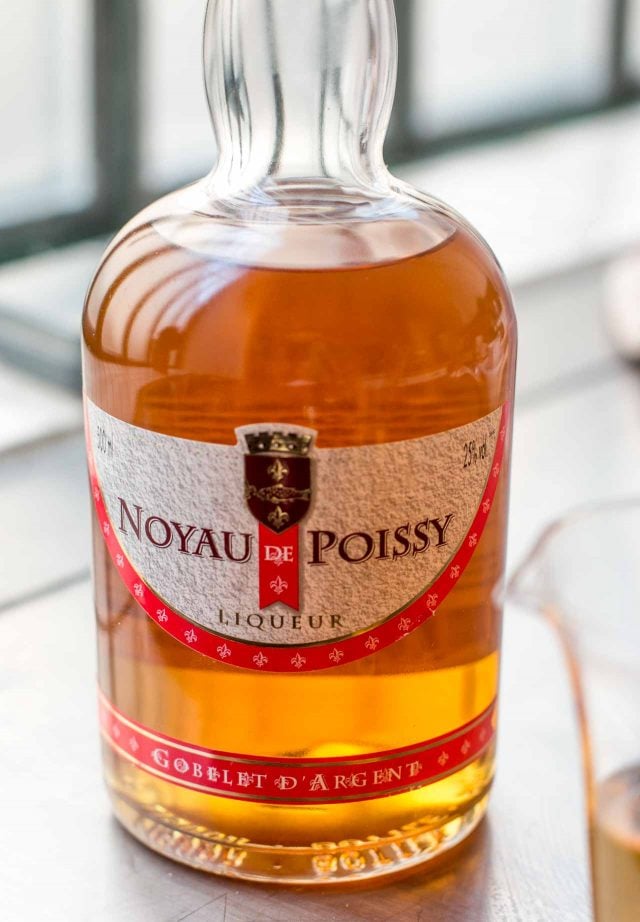 I've always liked the flavor of noyau, the bitter almond-like kernel tucked inside the pits of stone fruits; peaches, nectarines, plums, apricots, and cherries. Amaretto cookies are made from apricot kernels, and I was happy to get my hands on a bottle of Noyau de Poissy, a liqueur which prominently features their flavor as well.
First up is the difference between a crème and a liqueur. The rules are sometimes interpreted loosely, but in France, a liqueur should have a minimum of 100 grams (1/2 cup) of sugar or sweetener per liter whereas a crème has 250 grams (1 1/4 cups) per liter (about 1 quart), except for crème de cassis, which can have up to 400 grams (2 cups) per liter.
I became fascinated with is Noyau de Poissy because it's the oldest liqueur in France that's not connected with any religious order, made from apricot kernels macerated plucked from apricots that grow in the region where it's made, which is about an hour from Paris. The flavor is intensely almond-forward, its sweetness tempered by the nutty kernels with gentle vanilla and orange notes. It can be enjoyed on its own as an aperitif or digestive, in small quantities, but it really shines as a background flavor when used with other ingredients, and it's strong enough to hold its own in any cocktail. (It's also nice to add a few drops to any desserts made with almond paste or almond flour, or any of the fruits mentioned above, as well as pineapple.)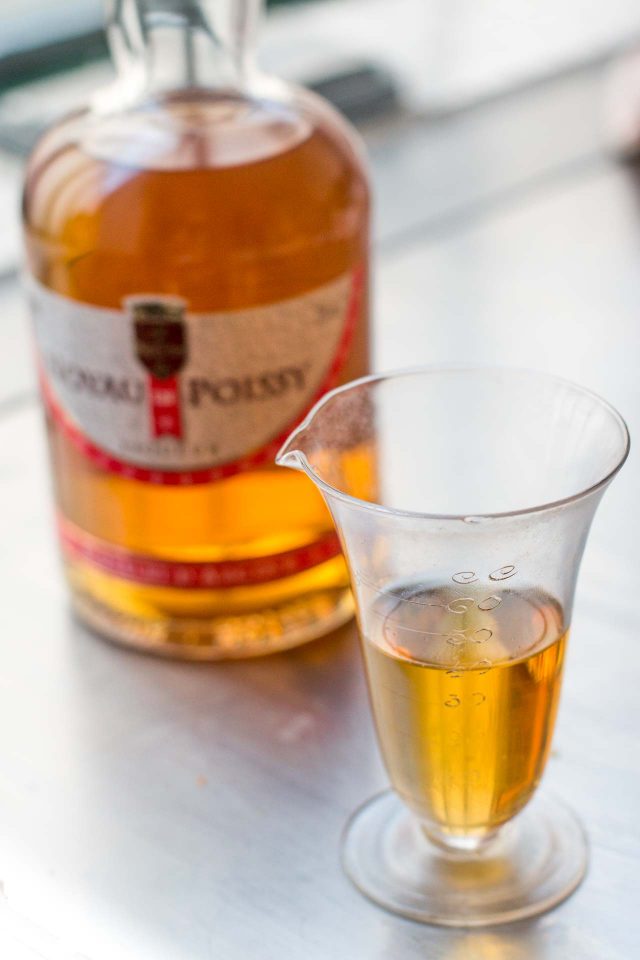 You might find it a challenge to get this particular bottle of France, but Tempus Fugit Spirits makes an excellent Crème de Noyaux, and I have a recipe to make it yourself in Drinking French, although I cut the sugar down considerably from what the classic versions have since most people these days prefer less-sugar, as I did with the other homemade liqueurs, crèmes, and other infusions in the book as well. Tempus Fugit's spirits and liqueurs are available in the U.S. and elsewhere, so picking up a bottle of noyau-flavored liqueur should be within reach.
I have a few homemade jars of liqueur de noyau, as well as the bottles I bought for book "research." I was looking for ways to use my bounty and came across a recipe in The Savoy Cocktail Book by Harry Craddock, written and illustrated in 1930. The Jockey Club was a cocktail that stood out to me, with an ingredient list sporting a bracing mix of gin, lemon juice, and "2 dashes of crème de noyau."
Older cocktail recipes can require a bit of decoding. Modern cooks, bakers, and drink-makers favor precision, and it's hard to discern what "3/4 glass" of gin is. Another vintage cocktail book on my shelf has a recipe that calls for " 1/6 grenadine, 1/6 Cederlund's Swedish Punch, 1/6 Calvados, 1/6 lemon juice, and 1/3 gin." Forgot trying to find Cederlund's Swedish Punch (although that punsch, which is the correct spelling, sounds worth tracking down), but after doing the math on those measurements, I'd be ready for a stiff drink, too.
According to the most recent issue of Saveur magazine, cocktail historian David Wondrich discovered that a number of older cocktail recipes that called for gin, originally were made with genever, a spirit that's enjoying a renaissance, according to the article in the magazine. I haven't tried it (after writing my book, I am now the proud owner of over 150 bottles of liquor, ça suffit for a while…), but it's said to have a malty flavor. However it fell out of favor, and was replaced by gin. Which may explain a Jockey Club recipe I came across that called for whiskey, rather than gin.
The recipe in The Savoy Cocktail Book took a little tinkering, and while I made a decent stab at it using the sketchy ingredient amounts as guidelines, this one, by Tobin Shea, bar director at Redbird (published in Imbibe), hit it just right. There's a generous amount of gin to give it some heft, backed up by tangy lemon juice, which keeps it light, and noyau liqueur to round things out. It's a straightforward cocktail that's been on rotation around here, and considering how good it is, it's not going to take any arm twisting to mix one up. A little cocktail shaking will do the trick.
| | |
| --- | --- |
| The Jockey Club | Print Recipe |
Adapted from Tobin Shea, in Imbibe magazine. I used the ambrée (amber) Noyau de Poissy, which has 25% alcohol, but you can use the clear one, which clocks in at 40%. Tempus Fugit Spirits also makes a crème de noyaux and is available at well-stocked liquor stores, or online at K&L Wine Merchants (in the U.S.) and La Maison du Whisky (in Europe.) If neither is available, you can use amaretto or maraschino liqueur. To make simple syrup, heat 1/2 cup (125ml) of water with 1/2 cup (100g) of sugar, stirring constantly until the sugar is dissolved. Remove from heat and let cool until room temperature. Chill until ready to use. (The syrup can be stored fora few weeks in the refrigerator.)
2 ounces gin
3/4 ounce liqueur or crème de noyau
3/4 ounce freshly squeezed lemon juice
1/4 ounce simple syrup
2 dashes orange bitters
1 dash Angostura or aromatic bitters
1. Pour the gin, liqueur de noyau, lemon juice, simple syrup, and orange and Angostura bitters in a cocktail shaker.
2. Fill the shaker 3/4s full with ice, cover, and shake until well-chilled, about 15 to 20 seconds. Strain into a chilled coupe glass.