Being confined for two weeks has been, um, interesting. As someone who works at home, I was, like, "I got this…" But by day two I started getting loopy. As much as I think Romain is the greatest thing ever, it's hard to be cooped up and not allowed to go out. True, we can go to the grocery store or bakery if we bring a signed attestation with us for each trip we make (good thing we keep plenty of paper on hand for printing and photocopying here all the paperwork) but I was surprised how much I missed the interactions of daily life, much more than I thought.
Today they suddenly closed one of my local bakeries because they didn't have enough masks and other supplies to protect their employees and customers, and tears welled up when I talked to one of the owners, who I've known since they opened the place. I ran over to get a baguette and a loaf of bread. They're not the only bakery in the neighborhood, but it was sad to see them go and I hope they can reopen.
I knew from living in earthquake country, when this started, to have extra provisions on hand, so I bought a few extra bags of non-perishables like sardines, tuna, canned tomatoes, and pasta sauce. I have tons of grains and pasta always on hand, but I wanted to make sure I had enough butter, eggs, and flour, which I usually keep well-stocked. But when I was at the grocery store last week and saw all those blocks of butter on the shelf, I thought, "Why not?"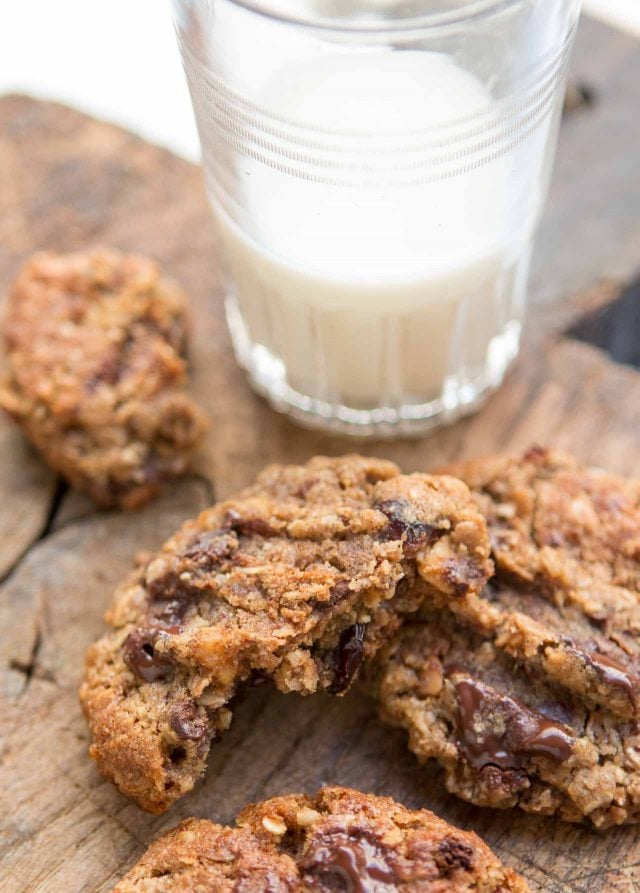 In the end, it was a wise idea because I've been doing a lot more baking than I thought. Being locked inside, I also was doing a lot more eating, too. (Which is why, when this is over, I'm going to be doing a lot more exercising.) Some of that butter went to these Chocolate Chip "Kitchen Sink" cookies, which I've already made a few times. I first tried them out last week, developing the recipe, and took some pictures to post here along with the recipe.
But yesterday when I searched for the photos on my computer, they weren't there. I don't know what happened. Maybe the virus is transmittable to computers? So I made the cookies a third time.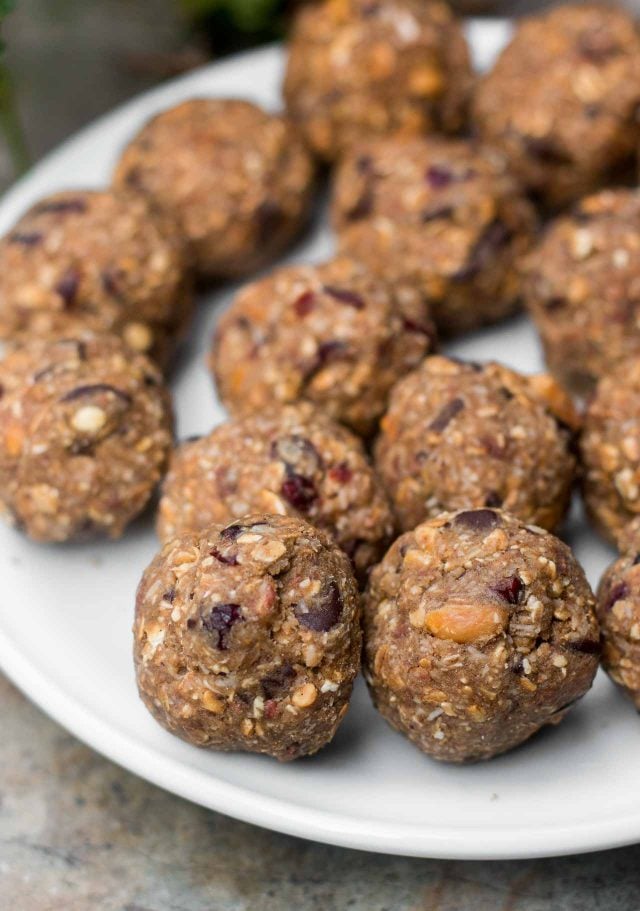 Which gave me ample time to try to come up with a name for these cookies. Some call cookies with lots of stuff in them things like "granola" cookies, which implies (at least to me) that you can have them for breakfast. Another term that gest bantered about is "compost" cookies. I'll leave your morning meal choices up to you (and leave mine to me), but wet soil littered with scraps of food, and critters crawling all over them, well…probably Cookies de compostage would be a tough sell around here…
For some reason, I settled on Chocolate Chip Kitchen Sink cookies. For those unfamiliar with that term, it's used to describe something that seemingly has "everything but the kitchen sink" in it. I'm not an expert on language or grammar, and for those willing to endure the occasional grammar or spelling gaffe here on the blog, I'll admit that I'm pretty good in the cookie department. There are those who have a lot more time to analyze these things than I do, who may point out that, 1) These cookies don't actually have everything in the kitchen in them, and 2) Why would anyone name a dessert after something that wasn't in it?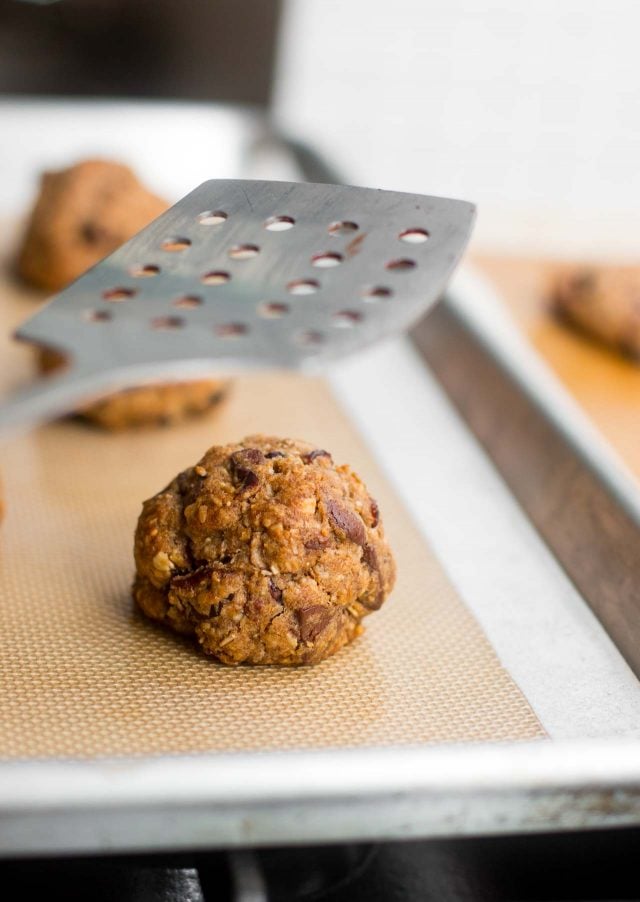 Your points are well-taken, and I promise to never bake another "flourless chocolate cake" again. And I'm fine if everyone agrees to give up "nonfat half-and-half," too. But I wanted to get this recipe to you, so you could enjoy them. So took off my thinking cap, which was getting too tight, and focused on baking.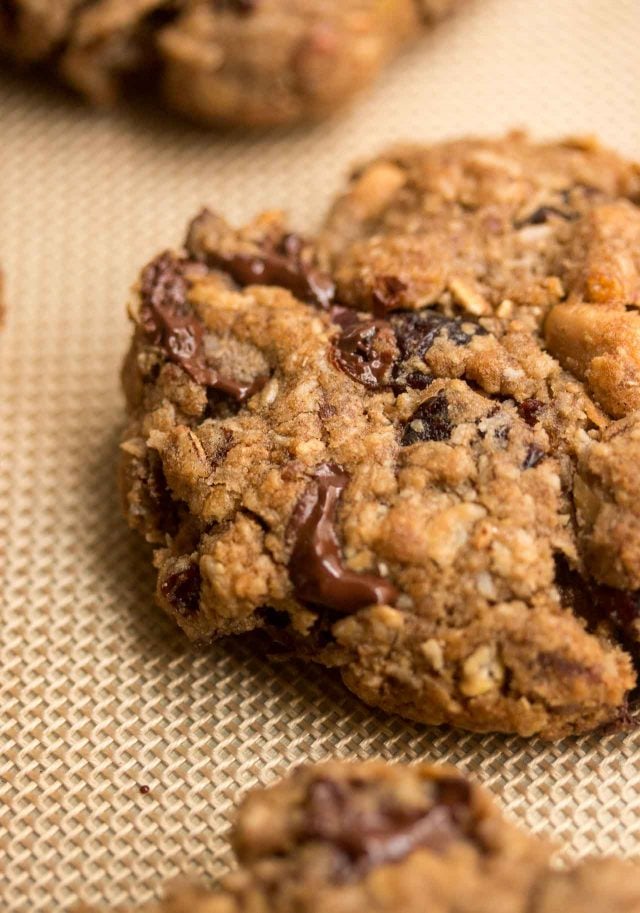 The Chocolate Chip Kitchen Sink cookies are great. I wanted a choc-a-bloc amount of ingredients in them, while preserving their chewy cookie texture. The trick is to underbake them, which keeps everything soft and moist. You want to bake them just to the point where, you look in the oven at the 9-minute mark, and touch them, but you still think they're not done yet. That's when they're done. Depending on your oven, you might need to take them out a minute before or after that number, but if you just want to bake a few off before you do the rest, and taste one after it cools, that might put your mind at ease.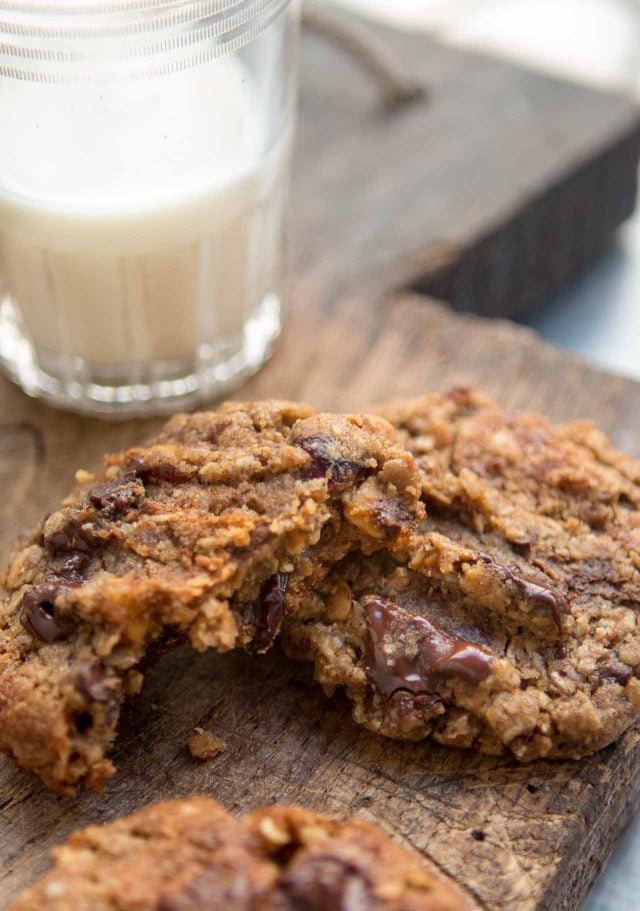 Romain gave these cookies a big thumb's up, although I think he was thinking that it was the confinement that made me call these Cookies à l'évier. I bought some to a neighbor in my building who has been under the weather, and within minutes, my phone lit up with a marriage proposal by text.
Normally I'd say that's not the way one should propose marriage, but in tough times, we take what we can get. But he didn't know the name of the cookies and was judging me solely by taste. It's the people that put up your flaws, inconsistencies, grammar flubs, and occasional bouts of temporary insanity when you're confined together, who you should really hold onto. But I'm holding onto my text messages, because one should always be prepared, in case of an emergency.
| | |
| --- | --- |
| Chocolate Chip "Kitchen Sink" Cookies | Print Recipe |
I used candied peanuts that I purchased, which are sometimes sold as honey-roasted peanuts. You could make your own candied peanuts or use roasted peanuts. And yes, you could use another kind of nut in place of the peanuts, such as chopped toasted walnuts, pecans, hazelnuts, or almonds. (For those who are nut-free, pumpkin seeds would probably be the best swap-out.) Raisins can be added in place of the dried sour cherries or cranberries. I kept the peanuts and chocolate rather coarsely chopped as I think big, discernable pieces are better than little bits that might get lost in the mix. (The picture I had to show you the size got eaten by the virus that deleted all the other pictures.) Because of that, the dough may be a little rough when rolling it into rounds before baking, and the cookies will likely be somewhat irregular. But thems the breaks for those of us that like cookies with a lot of stuff packed into them. As mentioned in the post, you want to underbake these cookies, so after you tamp them down, they'll remain soft and chewy. As you can see by the picture, they don't spread as other chocolate chip cookies do; they should be just lightly golden brown across the top when you take them out of the oven, not deeply golden brown.
3/4 cup (110g) flour
1 teaspoon ground cinnamon
3/4 teaspoon baking soda
1/2 teaspoon kosher or sea salt
6 ounces (170g) unsalted butter, at room temperature
1/2 cup (95g) packed dark brown sugar
1/4 cup (50g) granulated sugar
1 large egg, at room temperature
1 1/2 teaspoons vanilla extract
3/4 cup (80g) candied or roasted peanuts, very coarsely chopped
3/4 cup (60g) dried or flaked coconut (I used unsweetened but either would work)
3/4 cup (100g) coarsely chopped bittersweet or semisweet chocolate
3/4 cup (90g) dried sour cherries or cranberries, coarsely chipped
1. In a small bowl, whisk together the flour, cinnamon, baking soda, and salt. Set aside.
2. In the bowl of a stand mixer fitted with the paddle attachment (or in a large bowl with a wooden spoon or spatula) beat the butter and dark brown and granulated sugars together at medium speed until well-combined, about 2 minutes. Beat in the egg and the vanilla extract.
3. With the mixer on low speed, gradually add the flour mixture until it's completely incorporated. Add the remaining ingredients; the oats, peanuts, coconut, chopped chocolate, and dried cherries or cranberries and mix until the dough comes together.
4. Form the dough into balls about 1 3/4-2-inches (5cm) round with your hands. Preheat the oven to 350ºF (180ºC) and line two baking sheets with parchment paper or silicone baking mats. Place balls of dough evenly spaced apart on the baking sheets, leaving a few inches between them. Bake the cookies for 9 to 10 minutes, rotating the baking sheets midway during baking, so they bake evenly. When they are very light golden brown (see headnote for more doneness clues) remove the cookies from the oven and use a spatula to flatten down the cookies until they're 1/2-inch (1.5cm) high. Let cookies cool on baking sheets.
Storage: You can refrigerate the rounds of cookie dough for up to 5 days before baking, or freeze for up to 3 months. The baked cookies can also be frozen, too.