Someone told me that "cocktails" is one of the most used search terms right now on the internet. Sometimes I feel like I'm in the right place at the right time. Other times, I feel as if things might go the other way. Right now, I feel a little bit of both. When my planned book tour was nearing the start date, the news cycle shifted and when it looked as if it didn't seem like the right time to get on a lot of airplanes and invite people to join me at large gatherings to share food and drink, I hit the pause button.
So here I am, and there you are. Thankfully the internet can keep us connected. I don't know if people are searching for Chocolate Chip Kitchen Sink Cookies, but I've got tons of cookie dough on hand from developing and retesting the recipe five times in the last ten days. In nineteen years of baking between two countries, I've never had any issues with French butter versus butter elsewhere, but that seemed to be the culprit.
Fortunately, liquor is a different story and what we get here is what you get everywhere else. But unlike all the butter, oats, chocolate, and eggs I used working on that recipe to get it right so it worked for everyone, after writing Drinking French, I've still got plenty of alcohol on hand, so there's zero possibility of running out.
Since my book tour got clipped, I was thinking it'd be fun to set up a virtual drink somewhere, perhaps on Instagram Live, or another platform. The main obstacle is the time difference: When it's apéro hour in France, it's morning on the West Coast of the U.S. and late night in the other direction, in Asia and Australia. When I figure that out*, here's a cocktail from Drinking French I think you'll all enjoy.
I tend to like simple cocktails and am a big fan of Manhattans. You can keep all those drinks with seventeen ingredients that might include a 1/4 barspoon of black sesame tincture, or rinsing the glass with distilled linden flower water – actually, I don't mind those drinks, but I find they're more appropriate to be served at a bar than made at home. I'm in favor of drinks anyone can make with a minimum of fuss and a minimum of ingredients.
Although the French are the largest consumers of whiskey in the world, per capita, France is better known for its cognac, even though whiskey (or whisky) production has ramped up in recent years. Cognac makes a smoother Manhattan-style cocktail, which feels a little more sophisticated to me than it's whiskey-rich cousin from America. Don't get me wrong, a bourbon- or rye-based Manhattan is an outstanding drink, but the French aren't fond of bourbon (most find it too sweet) and rye whiskey is still something you need to track down, and I've gotten blank stares at liquor stores when I've asked for it. But cognac is partout (everywhere).
In this drink, orange liqueur backs up the cognac with the ruby, juiciness of aromatic sweet vermouth. Grand Marnier, Combier, and Cointreau are possible options in the orange liqueur department, or Ferrand Curaçao Triple Sec, made from an old-fashioned recipe using green-skinned Lahara oranges and toasted sugar before aging the distillate with cognac in barrels. Grand Marnier is also made with cognac and sour oranges while Cointreau is clear, and made both with sweet and sour oranges. You can use whatever you prefer, and whatever fits your budget. (Not to knock inexpensive booze, since some are pretty good, but most cheap triple secs and Curaçaos aren't, so I avoid those. Any of the aforementioned orange liqueurs are bottles where your money is well-spent.)
As for sweet vermouth, to keep it French, Dolin is a well-known vermouth from Chambéry, which was once part of Italy and isn't far from Torino, where the founder learned to make vermouth. (You can read a story in my book about visiting the Dolin distillery in the French alps on pages 182-182 of the book.) To shake things up a little, sweet vermouth can be replaced by another apéritif rouge like Byrrh or Cap Corse, two quinine-based French aromatized apéritifs that are lovely served on their own, over ice with a twist. So if you get a bottle, the rest will be put to good use.
But no need to get mired in tracking down elusive bottles. Go to a good liquor store (or even a decent one) and you can always find something drinkable. In the States, you can also find half-bottles of liquors, vermouths, and apéritifs, so you don't have to make such a big commitment. However, once you taste this French Manhattan, I think you'll be making these cocktails more than you think. And who knows? Maybe someday, we'll have one together.
[*Speaking of which, I'm going to do an Instagram Live presentation of making this drink this evening at 6 pm Paris time. You can use this time converter or this one to find out what time that'll be where you live. If you miss it, I'll do my best to archive it on my Instagram page. It's going to be my first time using that platform so wish me luck…and stop by for a drink with me!]
| | |
| --- | --- |
| French Manhattan | Print Recipe |
1 1/2 ounces cognac
1 1/2 ounces sweet vermouth
1/4 ounce orange liqueur, such as Grand Marnier, Cointreau, or Curaçao
1 dash orange or aromatic bitters
1 candied or Maraschino cherry, for garnish
1. Add the cognac, vermouth, orange liqueur, and bitters to a cocktail mixing glass.
2. Fill the mixing glass two-thirds full with ice and stir briskly until well-chilled.
3. Strain into a chilled coupe glass. Garnish with a cherry.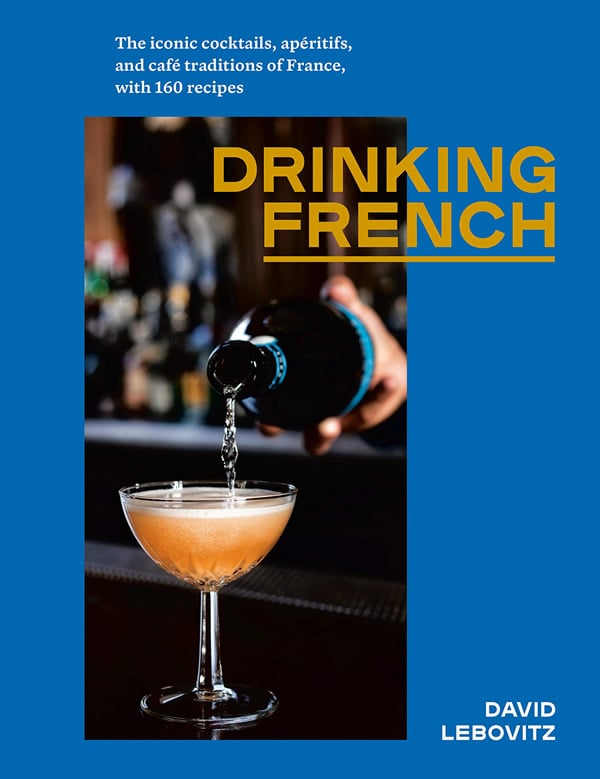 ---
Note: I don't usually make hard pitches for things, but this has been a particularly challenging time for many businesses, especially the hospitality business. I've been cooking and baking, and spending a little more time on social media connecting with others since it seems like the time to stay connected. I've loved seeing on social media, people who have been making drinks from Drinking French and sharing them online, which is extremely gratifying, and even touching. Writing a book is a full-on project and I throw myself into my books 100%. This one was especially fun for me because it was a subject that hadn't been widely explored. I felt like the traditions and recipes for French drinks were worth exploring, which required me to go outside of subjects I had written about before.
Along the way, in addition to people sharing their drinks online, I got to meet some amazing people who went out of their way to be helpful to me, whether they took the time to answer my questions by email, to show me around their distilleries, or to take me behind their bars to show me how they made a drink, sharing their knowledge, and in some cases, a recipe.
To be honest, I was a little scared of the people in the bar community. It was a world I didn't know a lot about and wasn't my forté. I figured that like the food world, there would be a lot of strong personalities (and like people in the chef world, there can be some strong egos) but I experienced an openness and generosity that I wasn't expecting. Bartenders, spirit-makers, spirits writers, and others in the field, could not have been nicer or more helpful. Many are struggling right now due to closures, selling cocktails-to-go and launching Go Fund Me pages for staff members who suddenly found themselves unemployed. If you'd like to help, check the Instagram accounts for your local bar, spirits shop, and restaurant, to see who needs help and what you can do.
Someone else in the food community mentioned on social media that another thing you can to support of your favorite restaurant, cooking school, bar, hotel, bakery, or book, that requires nothing more than a few minutes of your time, is to leave an online review online for them. Many businesses depend on favorable reviews to support their establishments and this is another way you can show your support.
In addition, the book industry has been hard-hit as well as independent bookstores in cities around the world, that have had to close their doors. Many are staying afloat doing mail-order or have come with "no contact" ways to sell books. So if there's a book you've been eyeing, or thinking about getting – now is the time to do it. It's a small gesture that, if many people do it, will a major impact and can save a lot of businesses, including bookstores, publishing houses (which employ a lot of people), and, of course, writers and cookbook authors.
Some incredible new books are out this spring by friends, which I recommend, such as Cool Beans by Joe Yonan, Falastin by Sami Tamimi and Tara Wigley, La Buvette by Camille Fourmont and Kate Leahy, Dinner in French by Melissa Clark, Flavors of the Southeast Asian Grill by Leela Punyaratabandhu, Beyond the North Wind by Darra Goldstein, Open Kitchen by Susan Spungen, and Spirits of Latin America by Ivy Mix. Those are links to their websites, where you can purchase their books.
If you purchase a copy of Drinking French or another book from a local independent bookseller, I know they would appreciate your business right now. Some of them include Book Larder, White Whale, Kitchen Arts and Letters, Omnivore, Powell's, Now Serving, Strand, Books are Magic, Archestratus, Books & Books, and RJ Julia. Most are happy to ship.
You also purchase Drinking French online at Barnes & Noble (which has autographed copies), Amazon, Indie Bound, and Book Depository, which offers free international shipping.
[Photo credit for the picture of the French Manhattans from Drinking French at the beginning of the post goes to Ed Anderson, with styling by George Dolese, and hands by yours truly.]
– David